Your plane is on final approach to Bozeman's Yellowstone International airport and your first glimpse of the area is a majestic view of purple textures bathing the Bridger Mountains. Next, you catch sight of the three rivers whose confluence creates the Missouri River (the Gallatin, the Madison, and the Jefferson). You know that the mighty Yellowstone is within striking distance, and you begin to will your plane to land faster. Your casting arm is twitching in anticipation of throwing bugs on one of them tomorrow. Which one will it be?
Montana's big blue skies and enchanting landscapes are no longer just images on the Internet and dreams in your mind, they are real. Your dreams and visions for this vacation are also about to become real, and you are already excited to share the pictures and stories of your "experience of a lifetime" when you get back to the water cooler.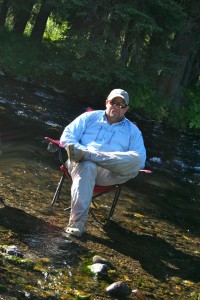 Ken Stock has just about fished every hole, around every bend, on every piece of water in this area. He knows where to go and what the fish will be eating. More often than not, they'll be eating the custom flies that he personally tied for you the night before he met you.
Those who know him claim that Ken is part fish. Like a magician who can pull a rabbit of a hat, Ken can pull a fish out of a puddle. No one really knows how he does it. He just does. Don't worry, you'll be into some fish soon enough, better rest up that arm tonight!